July 19, 2022
As a Westport, MA Contractor, we perform work in the Historic District.
The information in this post is specific to the "Westport Point Historic District".
The Historical Commission's website can be a little unclear when it comes to actually getting support/information for requesting permissions.
https://www.westport-ma.com/historical-commission
Joe Arruda Construction, Inc. has created this post to offer some guidance.  Please note – this is our interpretation of navigating the Bylaws of the Historical Commission and NOT a legal interpretation of their regulations or applicability. 
ALL work under the jurisdiction of the Town of Westport Historical Commission Charter and Guidelines must comply with their Bylaws.  This includes work which needs to be approved as NOT being under their jurisdiction (which still requires permission to proceed without their oversight – more of a "release" than an "approval").
SUBMITTAL Type 1: "Certificate of Appropriateness" – DIRECT APPROVAL
You fill out an application showing what is being done to a Historic Elevation or Structure, so the Board can review it and approve, redirect or deny it.
SUBMITTAL Type2: "Certificate of Non-Applicability" – MORE OF A RELEASE
This is for work which needs the Board's approval for a permit, in cases where the work is
not subject to view from a public way;
a maintenance, repair, or replacement using same design and materials (the Commission calls this "like for like" and suggests using that term in the proposal);
a proposed change specifically excluded for review under the Bylaw (which must be specifically expressed).
There are other Historical Commission submittals for demolition or hardship, but JACinc won't comment or offer guidance online – we require more specific information (and those require direct contact with the Committee Chair for further information).
A link to the application is provided here: Westport-Historic-Application
The Board meets on the first Monday of every month and requests to be added to the agenda must be received 3weeks prior.
Cost of the application is currently $50.
Applications can be filed via email by request (or supporting documents) but the best legal way to file an application is through the Secretary of the Selectman.  2nd Floor of Town Hall.  When it is submitted, the secretary will record the receipt of it…and it will be delivered to the Clerk of the Historical Commission.
APPLICATION and a copy of the HISTORICAL COMMISSION GUIDELINES are physically available on the wall outside the Selectman's Office at Town Hall.
* * * *
If you need assistance with understanding or navigating the Town of Westport Building Department (permitting) or evaluating which work requires a permit, Historical Commission approvals, OR to obtain a quote for work on your home, please contact me via email at mark.mahar@joearrudaconstruction.com
Mark Mahar,
Manager, Estimator, Architectural Designer
Joe Arruda Construction, Inc.
December 3, 2017
NEW CONSTRUCTION (DESIGN / BUILD METHOD) – Turnkey Construction
Vinyl Siding, Standing Seam Metal Roofing, Architectural Asphalt Roofing
Andersen Windows, IPE Decking
White Oak Hardwood Floors
May 6, 2017
FRAME & EXTERIOR DRESS
DUPLEX & TRIPLEX CONDO UNITS
August 28, 2016
Boat Themed Deck – Shady Hill Campus – Brookline, MA
August 16, 2016
Auto Dealership – Westport, MA
Two Additions, Interior & Exterior Remodeling, New Parking & Septic System
8 Stall Garage & New Showroom/Sales Floor
General Contractor
July 11, 2016
In-House Architectural Design / Custom Home
Turnkey Construction
Maintenance Free Exterior
Conventional Full Sill Window Trim, Lockheed Vinyl Windows & Slider
Bamboo Flooring, Berber Carpet, Granite Countertops, Maple Stairs
June 17, 2016
Cliff Ave, Newport, Rhode Island
1800's Historic Barn / Carriage House – Structural Rehab
Jack & Correct Structural Failures – Permanent Structural Corrections
Framing & Concrete Contractor
As much as 14″ Correction – Exterior Plumb & Level Result:
March 28, 2016
New Construction / Remodel – Newport, RI
Commercial 45,000SF
Prime Contractor: Framing, Exterior Trim
2015/2016
(Behan Bros. Project Management)
August 15, 2015
Sunroom & Deck Addition – Tiverton, RI
BEFORE:
AFTER:
March 15, 2015
The Tiverton Public Library is a 25,000SF hybrid energy efficient Steel/Wood building, located Tiverton, RI.
Joe Arruda Construction, Inc. was responsible for the frame and weather-tight shell/exterior dress.
A whole team of contractors conquered a long list of obstacles in order to keep the Tiverton Library moving forward, on schedule, and within budget. This project was challenging on many levels.  We are pleased to have served a role in building this truly unique building.
Steel Moment Frame
Wood Trusses
Structural Insulated Panel System (SIPS)
Exterior Zip-Wall System (Insulated Ply)
Asphalt Architectural & Membrane Roofing
Fiber Cement, Cedar & PVC Trims & Siding
This video features all of the structural and exterior construction (and sitework).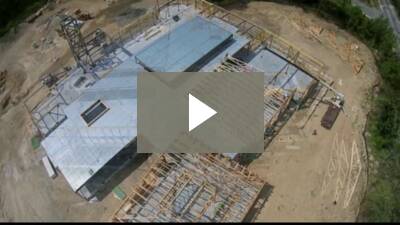 Tiverton Public Library, Tiverton, RI
Architect:
UNION STUDIO
Architecture & Community Design
140 Union Street
Providence, RI 02903
Construction Project Management:
BEHAN BROS., Inc.
975 Aquidneck Ave.
Middletown, RI 02842
Framing / Exterior Finishes:
Joe Arruda Construction, Inc.
6 Miracle Lane
Westport, MA 02790
Aerial Video production & editing provided by Mahar Enterprises, Inc.